Should I Choose Engineered or Solid Hardwood Flooring?
When you're searching for the perfect wood flooring for your property, you'll undoubtedly come across two distinct types. Engineered wood flooring and solid hardwood flooring are both wonderful options in their own way, sharing many of the same great benefits of wood flooring.
However, there are a few differences in how the flooring is made and how it performs, which make either engineered or solid hardwood flooring better for different rooms.
WHAT'S THE DIFFERENCE?
Solid hardwood flooring is typically around 19mm thick – or ¾ inches – and is cut entirely from one piece of wood. In contrast, engineered wood flooring comprises a thinner piece of hardwood on top of a thicker base of plywood. The hardwood itself is around 3-7mm (0.1-0.3 inches).
As a result of this difference in structure, one of the key differences is sanding. While solid hardwood flooring can be sanded time and again, engineered wood flooring is restricted to being sanded once or twice.
Additionally, solid hardwood flooring is usually available in a wider choice of wood types compared to engineered wood flooring. However, engineered wood is easier to install than hardwood flooring as it has a greater range or installation methods.
That said, a professional installation team is always recommended for both options to get the best results.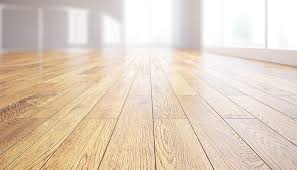 Engineered Wood Flooring
With boarded flooring we would usually recommend going for engineered wood flooring. While there isn't much cost difference, it will reduce the chances of having problems with the floor in the future. Because of its plywood base, there is much less chance of movement over time with engineered wood flooring.
Similarly, for kitchens and bathrooms, engineered is usually the better option. The plywood base has interlocking fibres, giving it a more stable structure than natural solid wood. As a result, it warps much less when it comes into contact with moisture, which can be a frequent occurrence in kitchens and certainly in bathrooms.
Solid Hardwood Flooring
On the other hand, if you were choosing a parquet floor, we would go for solid hardwood flooring. Solid blocks can be quite a bit cheaper and, as they are always glued down with flexible adhesives, they will allow the floor to breath without gaps appearing or blocks coming out.
That said, you would be better off with engineered wood flooring if you're pairing it with underfloor heating. Similar to the above, the stable structure of engineered wood flooring makes it a better match with the heating and cooling that comes with underfloor heating, with less susceptibility to movement.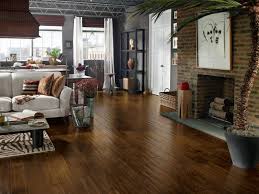 Where Can I Install Hardwood Floors?
Solid hardwood expands and contracts in reaction to changes in moisture and temperature, so solid wood floors are only recommended for rooms at ground level or above.
Engineered wood is suitable for most rooms in the home, including the basement or bathrooms. The unique construction of engineered wood creates a structure that is less likely to buckle, gap, or react to fluctuations in humidity and temperature.
DIY vs. Pro Installation
Solid hardwood flooring can be glued, nailed or stapled to a wood subfloor. These types of installations are best left to the pros, since they can challenge even experienced DIYers.
Engineered wood floors can be either nailed down or glued down, like a traditional hardwood installation. They can also be installed as "floating" floors, in which the boards attach to each other and "float" above the subfloor.
DIY Hardwood Installation
Solid hardwood flooring installation is perhaps the most challenging of all flooring types. However with the right tools and planning skilled DIYers can handle the job with stunning results. Engineered hardwood flooring is an easier and faster DIY installation.
The character of hardwood.
Know the difference.
There are major differences between solid, engineered and hybrid hardwood floors. The main difference is their structural composition which determines where in your home it's best installed.
Solid hardwood is constructed from one solid piece of 100% hardwood. It is known for its durability, authenticity and timelessness. Solid hardwood can be sanded and refinished numerous times. Not recommended for below grade.
Engineered hardwood is made of layers with 100% natural wood on top, wood on the bottom, and a highly stable core in the middle. The core consists of layers pressed together in a crisscrossed pattern. It's what makes engineered hardwood less likely to shift, expand or contract when exposed to environmental changes in temperature, moisture and humidity. Engineered can be installed on, above or below grade.
Refinishing Hardwood Floors
Both engineered and solid hardwood flooring can be refinished. Solid hardwood can be refinished up to 10 times depending on the board thickness. Engineered boards requires less refinishing over its lifetime – typically only one or two times.
Refinishing your hardwood floors can be a DIY project, but it requires some skill and a bit of patience. Equipment rental can range between $200-$300 dollars.
Price difference
In terms of look and feel, you truly can't see a difference between the engineered and solid, and there is no discernible distinction to the touch. In the case of expense, it depends on the plank size, cost of the wood being used, shipping and installation fees, so that's where the fees may differ.
Because their look and feel are virtually identical, typically the choice between solid and engineered wood comes down to price and climatic conditions. Jordans Flooring Consultants can talk you through what the right product for you is depending on your needs and budget. Find a store near you today.